www.bubbleteapowderb2b.com is specialized in
Watermelon Juice Concentrate
manufacturer, supplier. Excellent quality, best service, profession, and sincerity are the positive feedbacks earned from our clients. They help us to blend the positive images in the market for all of our products, and they have our promises to all of our worldwide clients. We will be in a sound position to provide clients with the highest performance and enable us to share the fruits of success with you. We welcome your suggestions and ideas on how we can make our company a better supplier and an improved partner to your business. 100% quality check will be performed to make sure the goods are of high quality standard when delivered to customer end.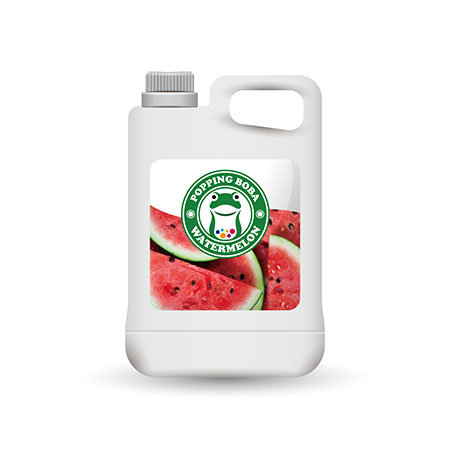 Model: WCJ
Watermelon Juice Concentrate
Watermelon Flavor Conc. Juice is one of the special products. The drink stands in Taiwan often offer freshly-made watermelon juice, taste was good and our Watermelon Flavor Conc. Juice is made to
provide this kind of refreshing into bubble tea drinks. The drink made with this syrup is sweet yet but not too much, good with milk as watermelon milk, one of the most famous night market drinks,
suggested to add ice cubes for better tasting.
Watermelon Conc. Juice is made from fruit juice, suitable for various kinds of drinks and tea beverages, this product is supposed to be diluted with water or tea before use.
Fruity Tea and flavored milk tea series are welcomed to use this product, and if massive purchase and customization are required, we are able to adjust the sweetness, color and density.
Please don't hesitate to contact us for further information.
Packing Specification:
2.5KG * 6 bottles
5KG * 4 bottles
20KG per barrel
Enquiry Now +
Enquiry Now -
We have a group of very professional design and production organizations, specializing in R & D and production
Watermelon Juice Concentrate
. Professional design and excellent product quality, guarantee to provide customers with high-quality products.Very sincerely look forward to establishing a long-term partnership with you.