We are always keeping an eye on market and customer demand at any time and changing our strategy according to it. We manufacturer, supplier and exporter the best quality
Popping Boba Strawberry
as well as prompt and satisfactory service according to the environment of the market and customer in Taiwan , which embodies our core value of customer centered and market-oriented on product quality.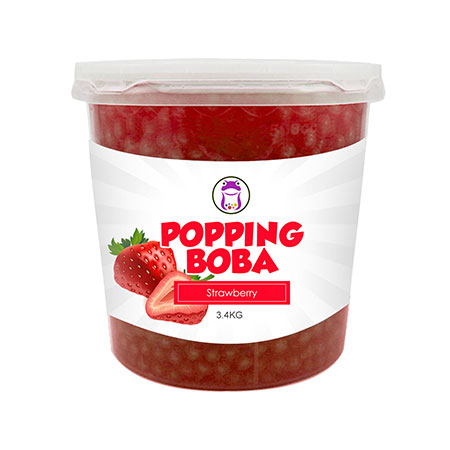 Model: PBS
Popping Boba Strawberry
Fresh and sweet strawberry are always liked by customers for its sweetness and scent, Sunnysyrup developed Popping Boba-Strawberry Flavor Coating Juice, is dark-pink color, sweet flavored liquid with good smell within,
coated with smoothe skin, the feeling of strawberry sweetnesss flowing in your mouth enriched the flavor of all kinds of drinks. Either tea or fruit tea are compatible with it.
Put Popping Boba-Strawberry Flavor Coating Juice on the smoothie or snow ice, it also made the desserts more appealing visually and for taste.
Popping Boba series include various kinds of juices coated within a sea-weed-made skin, once chew on, it bursts rapidly and release the refreshing smell of juice inside your month,
lifting the spirits and with lasting aftertaste. Popping Boba-Strawberry Flavor Coating is made of Strawberry Conc. Juice, suitable for various of drinks and as topping for frozen yogurt.
Please keep in shadow and avoid direct sunlight, this product is good for a year.
Packing Specification:
3.2KG * 4 cans
Enquiry Now +
Enquiry Now -
We own a very gifted artisan talent pool which guarantees timely deliveries with top quality
Popping Boba Strawberry
. We sincerely welcome all relevant friends all over the world to come for visit and cooperation!