www.bubbleteapowderb2b.com is a leading manufacturer, supplier and exporter the best
Pineapple Juice Concentrate
in Taiwan.Years of experience in this field, we continue to research and development, in order to make our products competitive in terms of quality and performance. The highest quality products at the most reasonable price is our ultimate goal. In order to achieve this goal, we have introduced advanced processing equipment, the product has a very high accuracy control. Therefore, if you have any questions about our products, you can tell us. We will give you the answer as soon as possible. Welcome to visit our website for more details.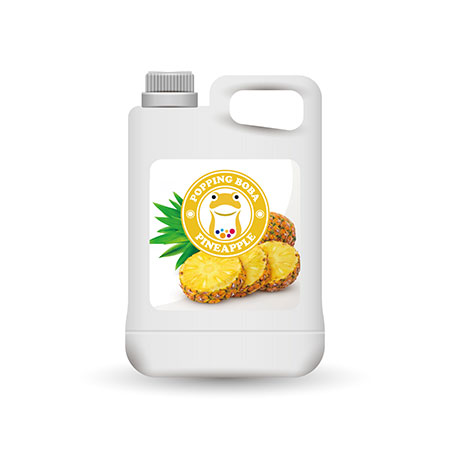 Model: PCJ
Pineapple Juice Concentrate
Pineapple Flavor Conc. Juice comes in light yellow color, belongs to tropical fruit. Taiwan is famous for producing pineapples.
Sunnysyrup produce this syrup and make the customers who live all over the world can taste this special flavor.
Pineapple Flavor Conc. Juice has strong and rich taste. It can be mixed with those tropical fruits like passion fruits or mangoes as special summer drink!
Pineapple Flavor Conc. Juice is made from fruit juice, suitable for various kinds of drinks and tea beverages, this product is supposed to be diluted with water or tea before use.
Fruity Tea and flavored milk tea series are welcomed to use this product, and if massive purchase and customization are required, we are able to adjust the sweetness, color and density.
Please don't hesitate to contact us for further information.
Packing Specification:
2.5KG * 6 bottles
5KG * 4 bottles
20KG per barrel
Enquiry Now +
Enquiry Now -
Our main
Pineapple Juice Concentrate
is popular in the world. Pursuing the service aims of contract abiding and trustworthiness, we sincerely welcome business people and friends at home and abroad to establish long-term and win-win cooperation relationship.