www.bubbleteapowderb2b.com is a professional manufacturer, supplier and exporter of
Green Apple Boba
with over years experience. The products made by us are high quality with competitive price and always delivered on time. We have new products every month to attract new customers. We have gained the reputation from more than 300 buyers throughout the world. Customization is welcome. We have been awarded the good export record in Taiwan every year. Please
contact us
right now. Find more information, please visit our website. We are looking forward to have a long term business relationship with any of our customers.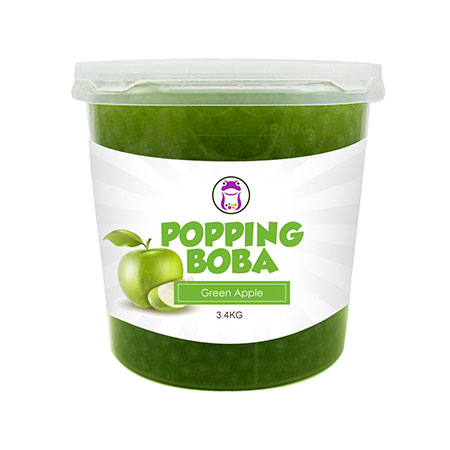 Model: PBGA
Green Apple Boba
Popping Boba-Green Apple Flavor Coating Juice is light-green color, with bright and smooth surface. When biting the boba, green apple juice is flowing out into your mouth.
Sweet green apple juice makes various kinds of tea appreciation. Regardless of extract tea or fruity tea, adding Popping Boba-Green Apple Flavor Coating Juice could be perfect fusion.
Even adding in smoothie,milkshake or snow ice enrich the flavor and vision.
Popping Boba series include various kinds of juices coated within a sea-weed-made skin, once chew on, it bursts rapidly and release the refreshing smell of juice inside your month, lifting the spirits and with lasting aftertaste.
Green apple coating juice is made of Green apple juice, suitable for various of drinks and as topping for frozen yogurt.
Please keep in shadow and avoid direct sunlight, this product is good for a year.
Packing Specification:
3.2KG * 4 cans
Enquiry Now +
Enquiry Now -
We can support new designs according to the requirements of customers; our
Green Apple Boba
is to fulfill our potential to ensure the highest quality service. For more information on our products, please take your time to browse through our website or give us a call, we wish to be of service soon.